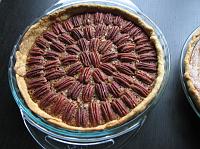 Thanksgiving kind of snuck up on me this year and I didn't really think about it as much as the last two years. Still, we bought everything by last weekend and I started cooking last night. I watched Aladdin and Beauty and the Beast on TV while I made the pumpkin pie, pecan pie, turkey brine, and cornbread for the dressing. It was fun watching those classic Disney movies, which are two of my favorites.
The
last time
I made a pecan pie it didn't turn out too well, but I decided to try to make one again for Thanksgiving. We actually had to buy a new pie plate because I only had one and that was for the pumpkin pie. I followed a
recipe online
and it turned out really good! I arranged the pecans on top in circles and it looked so pretty I almost didn't want to cut into it.
Then this morning, I made the green bean casserole, sweet potatoes, and the rest of the dressing. The 3 pound turkey only had to cook for 90 minutes. We also had cranberry sauce, rolls, and white wine. Everything tasted really good, especially the brined turkey. Makes me wonder why we don't cook this kind of food at other times throughout the year.
We'll probably go for a walk later after the football game and maybe watch a movie or play some games tonight. I have to work tomorrow, but we'll probably get out at 2, so that won't be so bad. Then this weekend we'll be putting up our Christmas tree! Hope everyone had a Happy Thanksgiving!