Troy and I went to First Hill last Saturday. We spent a few hours walking around and ate at a couple of places. First Hill is actually one of the first places we looked for apartments when we came up here for my job interviews in January 2008. Parts of it are really quiet and peaceful and it feels more like an older city because of all the established buildings and hospitals.
First we stopped at George's Sausage and Deli, a small Polish establishment, and got two sandwiches that had a ton of meat on them, probably two inches thick. I got a pastrami sandwich on sourdough and Troy got roast beef on wheat. They were pretty good, but Troy's would have been better if it didn't have so much dressing on it. George's is also a small market that carries mostly if not all Polish food. We got a toffee candy bar called "Maciek toffi" and it was really sweet. I didn't care much for it, but it was interesting to try something different.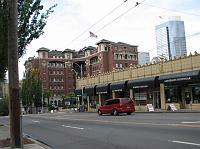 We continued our walk around the neighborhood and walked along Pike and Pine streets, which is actually normally considered part of Capitol Hill, but is on the border between the two neighborhoods. There are lots of interesting shops and bars around Pike/Pine, including a Value Village, which is basically like Goodwill. We also stopped to sit a few times at First Hill Park. We also had salted caramel ice cream at Molly Moon's new second location in Seattle. We didn't like it that much because it actually did taste like salt, it was weird. And like we almost expected, we ran into one of our church friends while we were in First Hill.
Around 5, we stopped to eat dinner at Saba Ethiopian. I had never had
Ethiopian food
before and Troy had only had it once, so we were going out on a limb here. I didn't know what most of the stuff on the menu was, but we'd heard the veggie combo was good, so that's what we got to split. The only way to eat Ethiopian food is to use
Injera
, a spongy like flat bread to scoop up the different stews and salads. Most of it was spicy, but tasted alright. There were a few piles of lentils and lots of other food I don't know how to describe. It basically looks like that picture on Wikipedia. It was plenty of food and Troy had some of it for leftovers.
We like First Hill because it's generally a well-established quiet neighborhood, full of older buildings, making it feel more like a part of the city. There are a lot of hospitals in the area though that break up the neighborhood and some areas are a little run down, which is why I wouldn't really want to live there that much.
Quick First Hill facts:
Population: 17,345


2008 Median Home Price: $321,500


2008 Median Condo Sales Price: $305,000


Cars per capita: 0.3


3rd most walkable neighborhood in Seattle
Sources:
1.
Seattle Metropolitan Real Estate
2. Walk Score:
Seattle's Most Walkable Neighborhoods