We spent this Saturday in Ballard. We started the day at
Golden Gardens Park
, which is probably the most popular beach in Seattle. It was a warm day so it was nice to hang out there for a little while and watch the numerous sailboats in the sound. We then had lunch at
Ray's Cafe
, which is part of Ray's Boathouse, a popular local seafood place. After that, we visited the Locks, which are a popular tourist attraction. We'd been to the Locks several times before and never stopped in the visitor's center until this time. There were lots of exhibits inside and some of it was pretty interesting. Then, after we crossed the Locks, we could see a lot of fish in the water and every minute or so one of them would jump in the air. We also saw some sea lions in the water. We had a really good time at the Locks.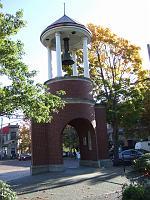 We went to Fishermen's Terminal next and looked at some of the numerous boats docked there. We then headed to downtown Ballard, which has lots of shops, restaurants, and bars, many of them in buildings that date to the early days of Ballard's history before it was annexed by Seattle. Ballard has a strong scandianavian heritage, but aside from an apartment building named Leif Erikson Hall and a few flags, with the closure of Olsen's Scandinavian Foods, that heritage was less apparent. We had dinner at
La Carta de Oaxaca
. We don't eat much Mexican food here but have gotten several recommendations for this place. It's food from Southern Mexico, so it's not my beloved Tex-Mex but it had been too long since I'd had chips and guacamole at a restaurant. I really enjoyed my food and La Carta de Oaxaca has become one of my favorite restaurants here. After dinner we bought a cupcake before heading home.
Ballard is a pretty neat neighborhood. There's a lot to see and do there and it has a nice neighborhood feel. While it's a very dense, walkable neighborhood, it's not as young, urban, and liberal as other neighborhoods we've been to. It's not the easiest to get to from downtown or from the freeway, but otherwise I'd be interested in living there.
Quick Ballard facts:
Population: 29,850


2008 Median Home Price: $419,500


2008 Median Condo Sales Price: $318,000


Cars per capita: 0.7


13th most walkable neighborhood in Seattle
Sources:
1.
Seattle Metropolitan Real Estate
2. Walk Score:
Seattle's Most Walkable Neighborhoods