We spent this Saturday visiting the
University District
. Though farther from downtown than some of the neighborhoods we've visited previously like Capitol Hill, First Hill, and Lower Queen Anne, it's one of the oldest and densest neighborhoods in the city. The 1909 Alaska Yukon Pacific exhibition was held on the University of Washington campus.
We live a relatively short bus ride away from the University District and we started our day out with brunch at Ugly Mug Cafe. Lesley had a breakfast croissant and I had a California BLT, which was easily the best sandwich I've had in Seattle.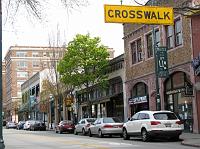 Shops along The Ave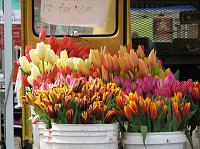 Tulips at the farmers market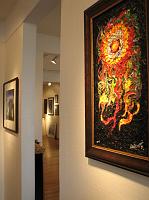 Art at the Kirsten Gallery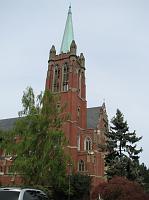 Blessed Sacrament Church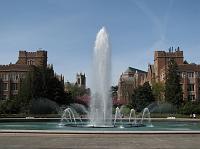 UW Campus and Drumheller Fountain
It was a sunny day but there was a cold morning wind. We headed north along University Way (known as "
The Ave
"). In addition to hosting the U District Street Fair that kicks off the summer festival season, the Ave is lined continuously with retail and restaurants. It's a mixing bowl of international foods, from Indian to Mediterranean to all types of Asian foods, mostly inexpensive enough to attract plenty of students.
We enjoyed strolling along the active street all the way through the U District, meandering through the U District Farmers Market, which is one of the best farmers markets in the city and had lots of food that we wanted to buy and take home with us. We then visited the
Kirsten Gallery
. This gallery was surprisingly large with a peaceful backyard garden and a variety of painted, printed, and sculpted art for sale at reasonable prices. This was one of several enjoyable places we stopped this day.
We continued on, past the towering and historic Blessed Sacrament Church to another historic building, the Seattle Public Library's Univeristy Branch, a
Carnegie Library
. We continued walking and realized that we were getting a bit hungry, so we stopped and shared a
falafel
.
We walked on the other side of the Ave for a while, stopping in several interesting shops. We stopped to look at wall posters, spooky gargoyles, some amusingly tacky crap, and some Asian imports. After this we decided to visit the
University of Washington
, enjoying the view of Mount Rainier and stopping to rest for a while at
Drumheller Fountain
.
We then grabbed some tea and stopped at a park (technically outside of the U District). The last thing we did was eat some very filling Indian food before heading back home.
The U District is a part of town that I often don't think about but is one of the more eclectic parts of the city. Despite being kind of a college neighborhood, after our visit I came away impressed and hope to spend more time there in the future.
Quick U District facts:
Population: 16,355


Population density per square mile: 9,844


2008 Median Home Price: $489,900


2008 Median Condo Sales Price: $400,000


Cars per capita: 0.2


8th most walkable neighborhood in Seattle


Sources:
1.
Seattle Metropolitan Real Estate
2. Walk Score:
Seattle's Most Walkable Neighborhoods