Seattle has many distinct neighborhoods with their own history and culture. Recently we spent the afternoon in Fremont, Seattle's most artistic and uniquely eccentric neighborhood.
There is a rocket in the middle of downtown, indicating what residents consider as the Center of the Universe. We spent most of our time not too far from the rocket, in downtown Fremont. We started the day with lunch at Costas Opa Greek Restaurant, which is situated prominently near the center of Fremont. We started with pita and hummus, then Lesley had the gyros, and I had a plate of many different types of food. It was good, but I ate too much, which slowed me down throughout the afternoon.
We relaxed under the Aurora bridge, watching boats go by and pass under the Fremont Bridge. Then, we checked out some unique shops in the neighborhood and spent plenty of time browsing through vintage junk and local t-shirts. Since we went on a Sunday, the Fremont Sunday market was going on. There were antiques, local art and accessories, and a lot of counterculture people. We also spent time walking along the Burke-Gilman trail, which is a popular trail, especially for biking. Before we left that evening, we had some sushi at Chiso Sushi.
There were many unique things to see in Fremont, like a troll and a Lenin statue. There are lots of houses in the neighborhood to the north, which aren't as quirky as downtown. Overall, though, the neighborhood has a uniquely artistic character that makes it one of Seattle's most interesting neighborhoods.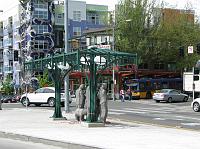 Quick Fremont facts:
Population: 10,389


Population density per square mile: 10,760


2008 Median Home Price: $483,475


2008 Median Condo Sales Price: $280,500


Cars per capita: 0.6


14th most walkable neighborhood in Seattle


Sources:
1.
Seattle Metropolitan Real Estate
2. Walk Score:
Seattle's Most Walkable Neighborhoods