Lower Queen Anne is a Seattle neighborhood close to us and pretty close to downtown. It's also adjacent to Seattle Center, so we spent some time in Lower Queen Anne on the same day we went to the Folklife Festival.
Lower Queen Anne is a pretty dense neighborhood, but seems to have quite a few parking lots. There aren't really any houses, mostly apartments, town homes, retail, and more office buildings than most Seattle neighborhoods have. Most areas of the neighborhood have apartments no newer than the 70s, but there are some new town homes, and there are a few major grocery stores. There are several restaurants and bars to serve residents and people attending special events going on at Seattle Center. Though Lower Queen Anne isn't as much of a cohesive, self-contained village as other neighborhoods are, it's considered the 9th most walkable neighborhood in the city and seems pretty livable, if not especially remarkable.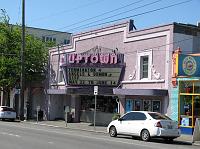 In our time there, we walked around a lot of the neighborhood, including many of the streets that we hadn't had reason to explore before. We also spent some time sitting at Counterbalance Park, named after
the counterbalance system
that used to help trolleys up and down Queen Anne Hill. Lower Queen Anne is pretty close to the waterfront, too, so we walked along the water in the afternoon. Later on, we stopped in Easy Street Records and bought a CD and we also picked up a book at Twice Sold Tales. We ate dinner at one of the many Thai places in Lower Queen Anne (unfortunately we picked the wrong one to go to, as it wasn't very good). Overall, we had a pretty good afternoon exploring the neighborhood. If we moved to another neighborhood, I would consider living in Lower Queen Anne because it's close to downtown and has a lot of things within walking distance.